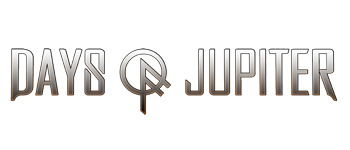 Days Of Jupiter is the name of a Swedish band which are ready to take the world by storm with their bombastic, melodic and heavy brand of Hard Rock.

The band looks for influences on both sides of the Atlantic ocean and they combines the modern American metal with classic Hard Rock from Europe and molding it into their own mix with a great result as you can discover on their albums "Secrets Brought to Life" and "Only Ashes Remain".

Days Of Jupiter was formed in January 2010 and after a few changes in the line-up they formed a solid group that could deliver the bands vision of a worldclass hardrock/metalband. 2010 was a year of a lot of hard work that resulted in a lot of livegigs in Sweden with a fantastic response from the audience as well as a second place in Sweden's biggest competition for unsigned bands. They began the recording of their debutalbum with wellknown producer Patrik Frisk (Corroded, Takida, Crash Diet) in Sidelake studios and was released in march 2012 and received great reviews and the band played shows at festivals like Sweden rock Festival, Live at heart, Nordic rock and Rock out wild.

Their second album "Only ashes remain" was released in April 2015 and the album spread around the globe resulting in air-time at a lot of Radio shows all around and a still growing reputation.

In the summer of 2016 the band recorded their third album at Leon Music studios (Mustasch, Sister Sin, Steelwing etc.) and recorded their strongest album to date. New Awakening is the name of Days Of Jupiters third strike, released on the 28:th of april 2017.

New Awakening recieved top notch reviews all over Europe, South America and in the US and been played on many radiostations in the world and ended up on the Top 50 Metal chart in the US.

Days Of Jupiter toured Germany, Belgium and The Netherlands during the summer of 2017 with great sucess.

In oktober 2018 their latest album called "Panoptical" was released. Once again the album was recorded at Leon Music Studios and the album got fantastic reviews from press like Metal Hammer, Rock hard, Power Play Magazine and Sweden Rock Magazine and the album also made to the Top 50 Metal Charts in the US.

Days Of Jupiter promoted their album with gigs with Disturbed in Estonia aswell as liveshows in Finland and Sweden. Their first headlinertour in Spain will take place in late 2019.