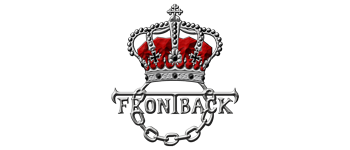 Are you looking for a 110 % energy filled and hard rocking band, which also has one of the
coolest frontwomen, then it's FRONTBACK you're looking for! The band goes on
nitroglycerin and gives a live experience out of the ordinary!
Frontback is a hard working band which has led to that the frontwoman Anlo Front, often
compared to a harder Geddy Lee, Gwen Stefani or Belinda Carlisle, won the nationwide
competition "Sweden's Rock Voice 2016" with over 1000 competitors.
The band's latest single "On And On" taken from their new well received album "HEART OF
A LION" has also been played nationwide at the biggest radio channel in Sweden (P4) for
several months. Released in January 2017 together with the record label Dead End
Exit/RoastingHouse.
Frontback has also been touring a lot in Sweden and started to reach European cities,
supporting bands such as Status Quo, Freedom Call, Crashdiet, Electric Boys, Wolf, Bullet,
H.E.A.T and has been playing some of the largest festivals in Sweden like Sweden Rock
Festival and Malmöfestivalen. To mention some points of the band's career so far!
Several shows are already booked for 2019 and more will be announced during the year.
Finally, Frontback fans around the world can rejoice in the fact that a third full length album is planned for 2019!
The Växjö band consists of:
Anlo Front - Lead Vocals & Rythm Guitar
Axel Graneskog - Lead Guitar & Backing Vocals
Jonas Persson - Bass Guitar & Backing Vocals
Koffe Stridh - Drums & Backing Vocals
With awesome guitar riffs, stylish poses and a fighting spirit the band takes their energetic live show, with both new and earlier song material, to the rock scene!
Welcome to join the Frontback family!