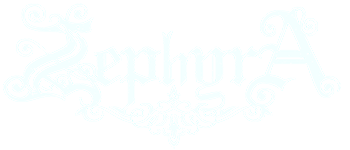 ZEPHYRA are a Melodic Metal band from Borås, Sweden. With Åsa´s distinct and wide range vocals, Zephyra provides a wide sound in the metal genre, with the roots in thrash and melodic death metal.
Since the official start back in 2011, the band has released three full length albums, played shows in Sweden, Norway, Europe and the United Kingdom. The band has one live shows on the radio and have frequently been aired on international radio shows. Zephyra has supported both The Agonist and The Raven Age in live shows as well as performing at numerous music festivals in Scandinavia and Europe.
The debut album, "Mental Absolution", was released on Wormholedeath Records in 2014. The second full length album; 'As The World Collapses', was recorded in the last quarter of 2015, and mixed/mastered by Christian Donaldson at The Grid (Montreal, Canada). 'As The World Collapses' was released through Inverse Records on August 5, 2016. With this album, Zephyra got to show a bigger and more atmospheric sound than before, heavy and rhythmic, with keyboards and Åsas full ranged, diverse vocals.
In September 2017, a new single, 'The Darkest Black', was released via Inverse Records and it builds a bridge between their second album, the critically acclaimed "As the World Collapses," and the progress of writing and recording a third one. Once again the band worked with Micke Andersson at MRG Studios (Borås) for recording and producing, and with Christian Donaldson at The Grid (Montreal) for the mix and master works; a superb team as showcased on the last album.
The third full length album; 'FALL. RISE. CONQUER.', was released on April 17, 2019 and has received accolades from publications worldwide as well as "Dreams Denied" being placed on Metal Hammer's "Hammer's 13: This week's best new music metal" (Week of May 13, 2019) in great company with music legends Slipknot and Hellyeah!
Zephyra brings a professional, energetic attitude on stage, and always deliver a 200% show. When it comes to bringing the fans a great show, there´s just one way to do it: To the max!

Festival Performances:
Tattoofest - 2019
TotsåsRock Festival - 2019
Eksjö Stadsfest - 2019
Quinphonic Festival 5 - 2017
Beermageddon Metal Festival - 2017
Stenhall Festival - 2017 & 2016
Vicious Rock Festival - 2015
Zephyra are:
Åsa Netterbrant – Vocals
Tony Netterbrant – Guitar
Alfonso Rinaldo – Bass
Kujtim Gashi – Drums
Discography:
FALL. RISE. CONQUER. (2019) – Album
THE DARKEST BLACK (2017) – Single
AS THE WORLD COLLAPSES (2016) – Album
MENTAL ABSOLUTION (2014) – Album